What Is Third-Party Moving Insurance,
And Why Do I Need It?
A third-party moving insurance plan protects your belongings and ensures you will be compensated according to the value of your items should they become damaged or lost.
Wait a Second... First, What Is Moving Insurance?
Moving insurance protects your belongings in case they are damaged or lost during your local or long distance move. By law, all moving companies are required to provide you with only "basic" moving insurance.
So, What Is "Basic" Moving Insurance?
Basic moving insurance (aka home moving insurance) covers your belongings in case of damages or loss at 60 cents per pound, per item no matter their value. It is free and included in your move when moving with licensed movers.
What Happens If I Don't Purchase Third-Party Moving Insurance?
You will not be covered nor be eligible for any additional compensation above the federal $0.60 per pound per item of your belongings that is required by law. By having no third-party moving insurance, your personal belongings are not protected from any damages or loss. You will be compensated ONLY at the federal rate of 60 cents per pound, per item that is required by law.
That means that your vintage dear-to-heart mirror you purchased for $1,300 in the south of France and walked back to your hotel room that is now completely ruined... will only yield you $18.60 with your Basic Coverage, and that is by federal law.
But... But... This Is What I Hired Professional Movers For!
That's right! Take your car insurance company for example. Should (god forbid) you be in an accident, your car insurer wouldn't tell you "we trusted you and thought you knew how to drive - we won't pay you since you're a lousy driver" - right? They understand that accidents happen, and they will pay you for the agreed compensation you purchased and signed for.
It takes a small stone on the road to rattle a 16 wheeler truck, or an animal jumping in front of it to move its contents. It has nothing to do with how professional your movers are - accidents happen.
Also, remember: We're only human - accidents happen. You can choose to be right, or you can choose to be smart.
The "F" Word - Fair!
Would you call your insurance company to ask for a $10,000 coverage check after a car accident - when you're only covered for $5,000? Probably not. You wouldn't even think about it as you took responsibility when choosing and signing your coverage... and besides, it simply won't work.
Same here! Before you jump on Yelp, Google, BBB to bash and tell the world how those movers ruined your life when they damaged your $700 desk you got from your great great grandfather... be fair. Ask yourself, is it fair of me to ask for $700 when I signed an agreement that clearly stated I would only be compensated for $0.60 per pound? I will accept $15 because I wanted to save money or did not think anything will happen?
If your answer is still yes, it seems your inevitable review will join the void of millions of client reviews who didn't purchase proper coverage and are not honoring their signed contract agreements and demanding more.
Does that sound fair? Is the amount of the third-party insurance coverage worth the risk, agony, and eventually much higher costs of replacing your damaged / lost items? That's yours to determine. I say, yes.
Is A Third-Party Moving Insurance Even Worth it?
Well, for example - if your moving company damaged or lost your brand new couch of which you paid $1,750 for and this couch weighs 100 pounds, you would only receive $60.00 in compensation ($0.60 cents x 100 pounds). This is the law of which moving companies are required to obey and are protected by.
REMEMBER: When you don't get a third-party moving insurance plan and you ask your moving company to pay you in full for a damaged or lost item... How are they supposed to do that?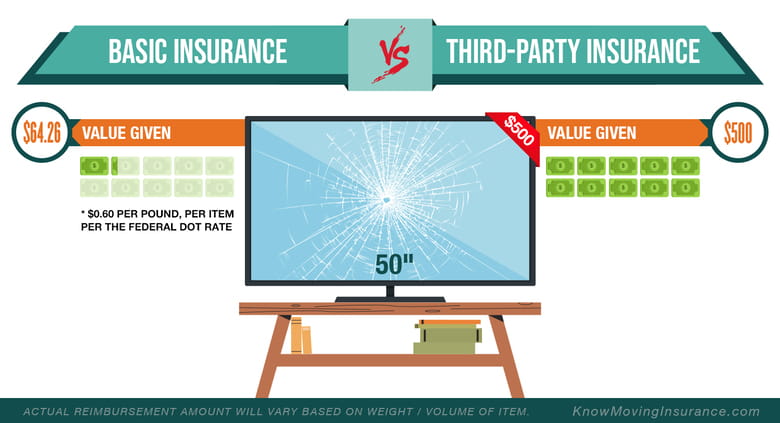 By law, The Movers Must Pay Me For Any Damages Or Loss, Right?!
No. You can expect to be paid only the Federal Rate of $0.60 per pound, per item of which you agree to in your contract. Anything that will be paid to you above this rate is ONLY an act of good faith from the moving company as they are not obligated to anything more, by law.
Is The Moving Company Required To Replace, Repair, or Buy New ANY Damaged / Lost Items?
No. You can expect to be paid the Federal Rate of $0.60 per pound, per item of which you agree to in your contract.
It seems as the Federal Rate assumption is such that says:
If you are OK to agree to the basic insurance of $0.60 per pound, per item, it means that the items you're moving are not important enough for you.
If your collectible, vintage grandmother's desk from the 60's is so important to you - insure it. By NOT doing so, you are agreeing to no compensation or a significantly low one in case it's damaged or lost.
In other words, if you are willing to take the risk when relocating your signed one-of-a-kind art piece worth over $2,500 and do so without a third-party moving insurance - prepare to be paid about $10 for it should ANY damage occur to it or it is lost. It's kinda irresponsible too, no?
I Have a Small Move, Is Third-Party Insurance Even Worth It?
The answer to this one is very simple:

If any of your items important and valuable to you, then yes! You want to insure them. If you don't care if they will be damaged or missing items, do not.
What If I Pack On My Own? I'm Still Insured, Right?
Yes, but.. no. Packed By Owner (PBO) items won't be covered in full but only up to $250 at max per box and usually limited to up to 10 boxes. This is why it's better to have your moving company pack. The reason the amount per box is limited is that insurance companies assume you are NOT a professional mover nor packer and the chances of damages the insurance company will need to cover for due to YOUR packing, is higher for them.
So... Go. Go Insure Yourself!
It is the one thing you'd rather have and not need than need - and not have. Avoid endless back n' forth emails, aggravation, anxiety, and holding that negative energy just to post it on Yelp which won't change your outcome, won't bring your items back, and most important - NOT getting the fair financial solution you could have if you were insured. So go... go insure yourself!
Got It! It Does Makes Sense... How Do I Get Third-Party Insurance?
You can purchase third-party insurance from any company who provides that type of policy. Start by searching "purchase third-party moving insurance" in your favorite search engine.
You can also ask your moving company. Some will recommend you to the third-party moving insurance companies they work with.